Friends of Cochamó Wins First Grant!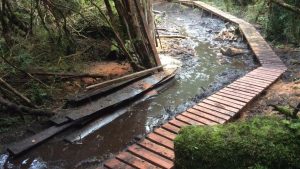 Huge announcement: Friends of Cochamó has been awarded its first ever Grant!
We received $10,000 USD to be used to pay local horse packers (arrieros) for trail work on the trail into Cochamó!
This is great news not just for the much needed trail work, but more importantly, because many of the arrieros have been hit hard by COVID. The majority of this money will help pay wages for invaluable community members who are out of, or getting very limited work.
We couldn't be more thrilled, and more appreciative of @atconservationfund for selecting our project for the Grant!
Go give @atconservationfund a follow, and check out the link in our bio! ATCF wants to fund 5 more projects like ours to help COVID-impacted communities all over the world, but they need your help. Pitch in if you can today!


Gran anuncio: ¡Friends of Cochamó recibió su primera Beca!
¡Nos otorgaron $ 10,000 USD para pagar a los arrieros locales por el trabajo del sendero en el sendero hacia Cochamó!
Esta es una gran noticia no solo para el trabajo de senderos tan necesario, sino más importante, porque muchos de los arrieros han sido afectados por COVID. La mayor parte de este dinero ayudará a pagar los salarios de los valiosos miembros de la comunidad que están sin trabajo o que tienen un trabajo muy limitado.
¡No podríamos estar más emocionados y más agradecidos de @atconservationfund por seleccionar nuestro proyecto para la Beca!
¡Dale un seguimiento a @atconservationfund y echa un vistazo al enlace en nuestra biografía! ATCF quiere financiar 5 proyectos más como el nuestro para ayudar a las comunidades afectadas por COVID en todo el mundo, pero necesitan su ayuda. ¡Contribuya si puede hoy!
If you'd like to help support our work, please consider making a donation.